2000 admission enquiries with a spend of just 1L in 4 months!
Keep reading to know how it was possible for this institution
Mangalore Institute of Fire and Safety Engineering (MIFSE) is a pioneer institute of Fire and Safety Education in India.The Institution was awarded prestigious "Indian Education Excellence award" in 2014 as a No.1 institution for safety courses in India. It is also affiliated to some of the leading universities in India which have been accredited with grade by the National Assessment Accreditation Council.
Their branches include Mangalore, Bangalore- Malleshwaram and Banshankari, Udupi, Shimoga, Davangere, Hubli, Belgaum, Hospet, Tumkur, Mysore They offer Diploma, P.G Diploma, Advance Diploma, BBA, NSDC courses and international courses.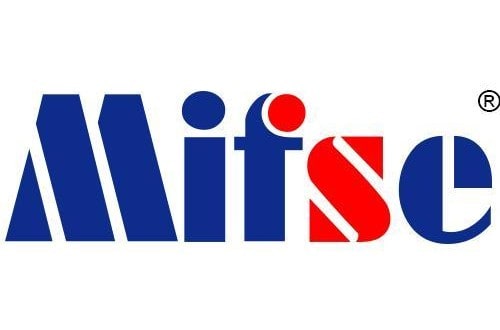 The courses were unique and people were unaware of the scope

The courses offered by the college were not the ones that one would generally opt for. The institution faced a lot of problems due to the pandemic. People were either not thinking about future education or were opting for courses they thought had the most potential. It was a challenge to market these courses in such a way that people would want to choose them over all other mainstream courses.

The pandemic restricted all their usual sources of admissions


There was no way to conduct programs and awareness as the institution would usually do. The only way to reach their audience was through digital means!

They needed to have a digital presence


MIFSE is a well renowned institution. Even then, their digital presence was very minimal. They had no idea where their audience spends time and what interests they had. Their social media channels also had minimal engagement.
Enter – ALTER MARKETING SOLUTIONS! So, how did we change the game around?
A strategy was put into place after we went through the following:
Before we commencing the work, we do start with audit to understand following things,
Understanding the market and defining a target audience
Concluding the value offer to be communicated
Base analysis on where we stand and drafted milestone on KPI's
Drafted the integrated marketing strategy which is aligned with our KPI of brand expansion, lead generation with proven ROI.
Research on market and strategy
In this case, there was more of a challenge to make people move away from choosing the 2 -3 common courses. Our strategy simply involved picking our most effective benefit and putting it across in the most attractive way. We narrowed down the persona and the fact that these people want a course that guarantees jobs, is short and interesting. Our course gave them all 3.
Facebook ads
Ads were run on Facebook and Instagram platforms after thorough research was done on the target. They fell in the age group of 18-24 and this group is very active on both the platforms. Further, we pinpointed the target audience to those people who spoke kannada only. This was concluded after an A/B test was done between english and kannada ad creatives.
Admission leads through social media ads.
A total of 19 ads ran in the duration of 4 months. The objective of all these ads was lead generation. Ads were directed towards people who were looking for unique career opportunities. We also concluded that kannada ads worked best for this brand.
Here are some highlights from our journey with MIFSE!
– We managed to get 1,831 leads at an average cost of just Rs. 54.61!
– This means at an average there were about 15 leads per day for 4 months!
– Managed to get over 17L impressions at an average CPM of just Rs. 56
– There were about 20,339 clicks with only Rs. 4.9 per click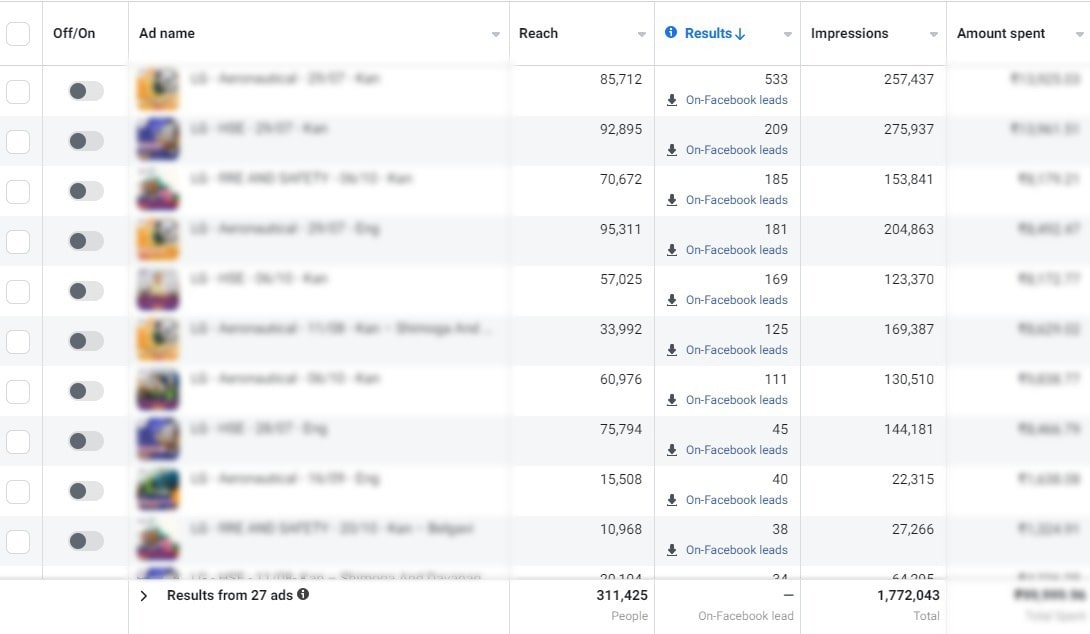 The strategies developed by the marketing team worked wonders for the brand! The leads were not just high in number but also in quality. We made sure that the ads had to-the-point communication and only spoke about the value it had to offer to the audience! This is what led to incredible results in a very short time!
Don't leave out any way to reach your audience 
People consume information from so many sources. It is crucial you pick out the places most relevant to your audience and keep showing them your advertisements so that they do not forget you!
Make sure people know the value you have to offer
No matter how good your product/service is, people will not opt for it until they see a real value in it for them. So, tell them WHY exactly your product/service is the one they should choose among the multiple other options they might have.
Cater to your audience!
Take time to understand your audience properly. It is most crucial in marketing. Best of the best plans fail when the audience set is not right! Who is your audience? What age group do they fall under? Where do these people spend most of their time? What are their interests and pain points? These are a few of the questions you need to keep in mind while strategizing.
Messaging is key!
In today's digital world, people do not have the time to give their complete concentration to every ad they come across. If it does not catch their attention in the first few seconds.. You lost them! Therefore, communication and messaging become crucial. Give them something that they simply can't scroll past!