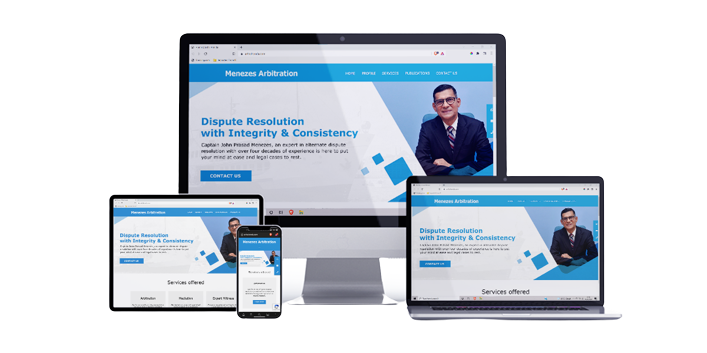 Captain John Prasad Menezes is a Master Mariner, Marine Consultant, Expert Witness and a practising Maritime Arbitrator and Mediator. He has over ten years of conflict resolution expertise and has developed remarkable professional competence that helps people deal with difficult legal and maritime challenges. His arbitration expertise encompasses a wide range of marine claims, his expert witness assignments include both national and international clients, and his mediation work has casualties across the West Coast of India.
Captain Menezes already had a website that went by "Menezes and Associates". It was a private marine consulting firm that had clients from all major Indian ports. However, he wanted to create a different platform where all the content was personalised to his services. This website was meant to highlight the experience he had, the services he offered, and all his previous works. A professional portfolio of sorts, this website was aimed at also bringing in clients who wanted to work with Captain Menezes.
To build a professional website easily discovered by clients looking for an arbitrator online
Increase overall trust and credibility through an improved content experience
It's not uncommon for clients to make decisions about you based on your online presence. This is why we wanted to create an effective, easy-to-read, informative and search engine optimized website to help clients find Captain Menezes online.
To make Menezes Arbitration stand out from the rest of the crowd, we restructured the content provided and organized them into different pages that were easily discoverable on the menu. Timelines and a map section that highlighted his empanelments and memberships were added to the main page to accommodate his preferences. Other pages included information on the services he provides, his past experience, educational background, etc.
With the right content strategy, Alter successfully created a website that was directed towards the Captain's current clients, potential clients, and people who would be recommending his services to others by sharing his website to learn more about the services he offered. With a sleek design and prominent call to action statements, a well-organized, easy-to-read and simple-to-navigate website is here for your perusal.