Social media marketing company in Mangalore
Social Media Marketing is an effective way to keep in touch with your users and keep them engaged. Did you know that as of 2019, 40% of the world population is using social media? This number has been increasing in leaps and bounds since social media was first introduced. Therefore, the social media presence of your business is now important than ever before. It helps build a relationship with your potential customers by humanizing your brand. you can receive direct personal feedback as well as increase web traffic and attention.
Why Social Media Marketing?
Increases brand awareness
Social media marketing increases the popularity of your brand and makes it known to people.
Drives targeted traffic
With the use of cookies, social media marketing helps reach targetted customers.
Improves retargeting
Retargeting helps turn window shoppers into your customers.
Interactive communication
Social media marketing increases the scope for an interactive communication.
Builds brand loyalty
Improve customer retention by building your brand loyalty
Easily measurable
It is easy to measure the impact of your digital display ads on your audience.






Excelllent client support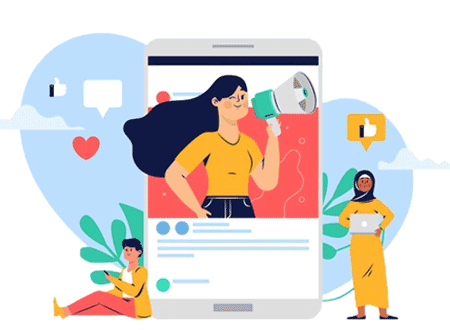 Defining the objective – The first step in taking your business into the social media platform is to make a clear plan as to what you're looking to achieve.
Deciding the target audience – Then we decide who your target audience is going to be. We make sure that whatever we're doing suits your desired audience. 
Designing – Then we implement all our plans into action. We keep in mind the current social media trends and development. 
Analysis – Then we analysis your results. We learn how your audience responds by taking their feedback and comments into consideration. 
Improvement – Finally, we implement the changes. It is very important for your business to keep up with the changing times in order to make any difference in the sea of competitors.
Interested? Start Altering your business with the best social media marketing company in Mangalore.