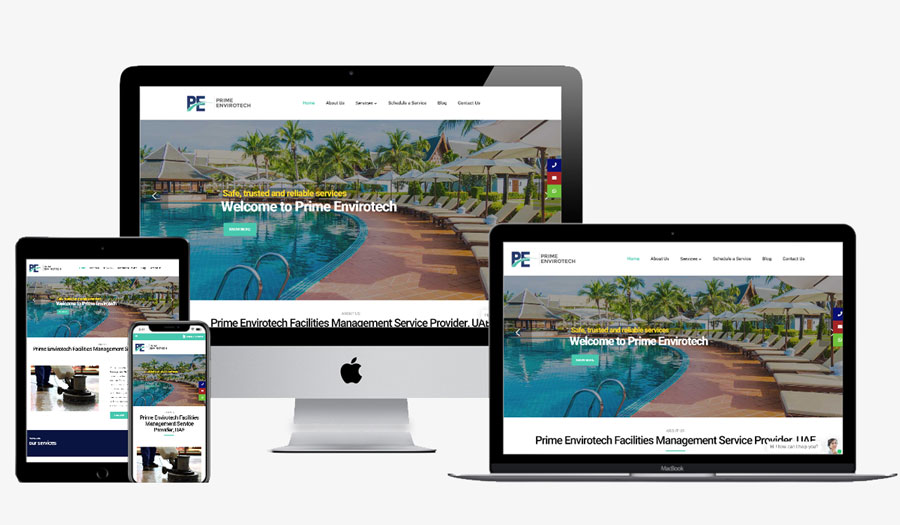 Established in the year 2014, Prime Envirotech is a Facilities Management Service Provider based in UAE. It is a group trading name for Prime Envirotech Technical Services LLC and Prime Envirotech Cleaning Services. Managed by a team of industry professionals, it specializes in maintenance and cleaning services. The company assists businesses in cleaning and maintaining their indoor and outdoor assets in the best condition. Additionally, it also provides services like civil, electrical, plumbing, sewage treatment, and air conditioning installation.
Prime Envirotech wanted to digitally showcase its business and offerings. The client wanted to have a new and exclusive website of their own. However, they did not have any website earlier. And they offered multiple services – all of which had to be focused on individually. Each of the services had to be showcased in a very detailed manner and suitably appeal to their customers' requirements. The website also had to load quickly.
Our team started with extensive research and collected ample information, to get started with the website design. We focused on having a good content flow and optimized the website with relevant keywords for a good ranking on Google search. The website was given easy and smooth navigation and a modern look. The end result was a totally SEO-friendly website running with the latest security standards and optimal loading speed. It also had a responsive design making it mobile-friendly. The company got a digital showcase website that captured what it stood for, perfectly.