To increase brand awareness through social media.
Zari Couture is an ethnic wear store in Mangalore which boasts the finest collection of exclusive, hand-picked sarees, salwars, lehengas and fabrics from around the country.
They had been in business for over 5 years when we met them. They were doing well with the Mangalorean community with their superior quality fabrics and exquisite designs.
They needed more engagement online. They wanted to create an online presence so that people interact with them on a regular basis. They wanted Zari Couture to become a name that everyone knew and talked about.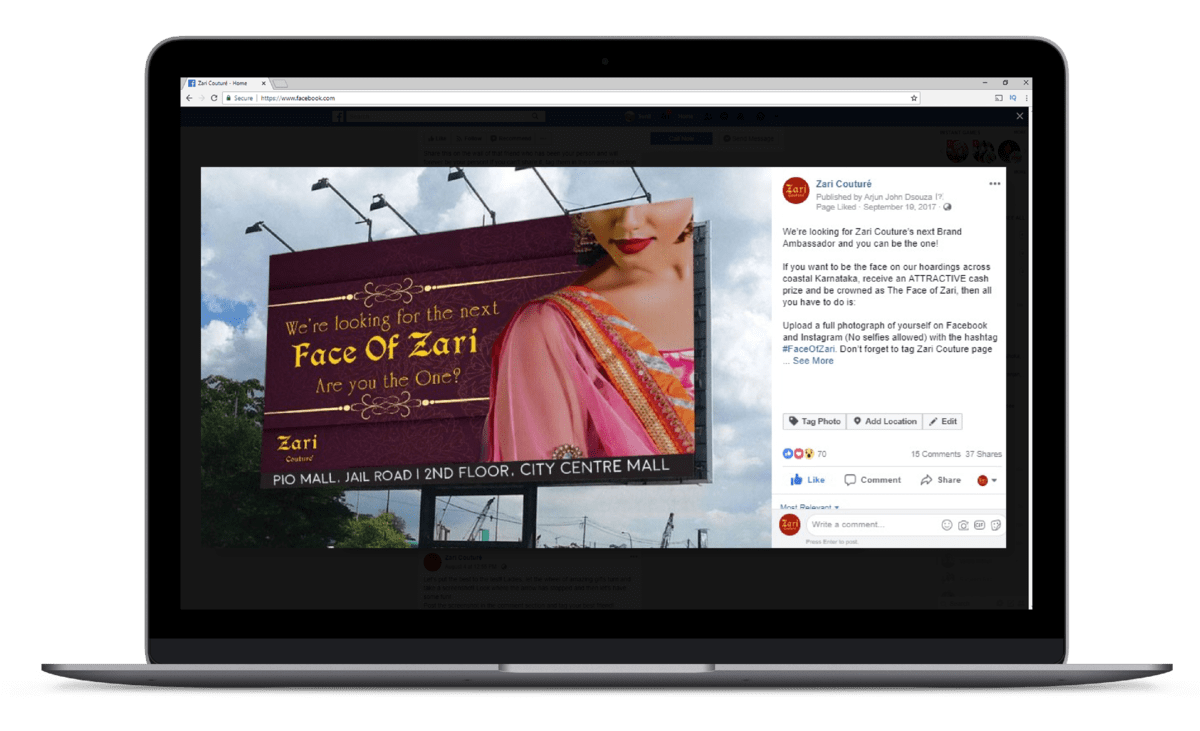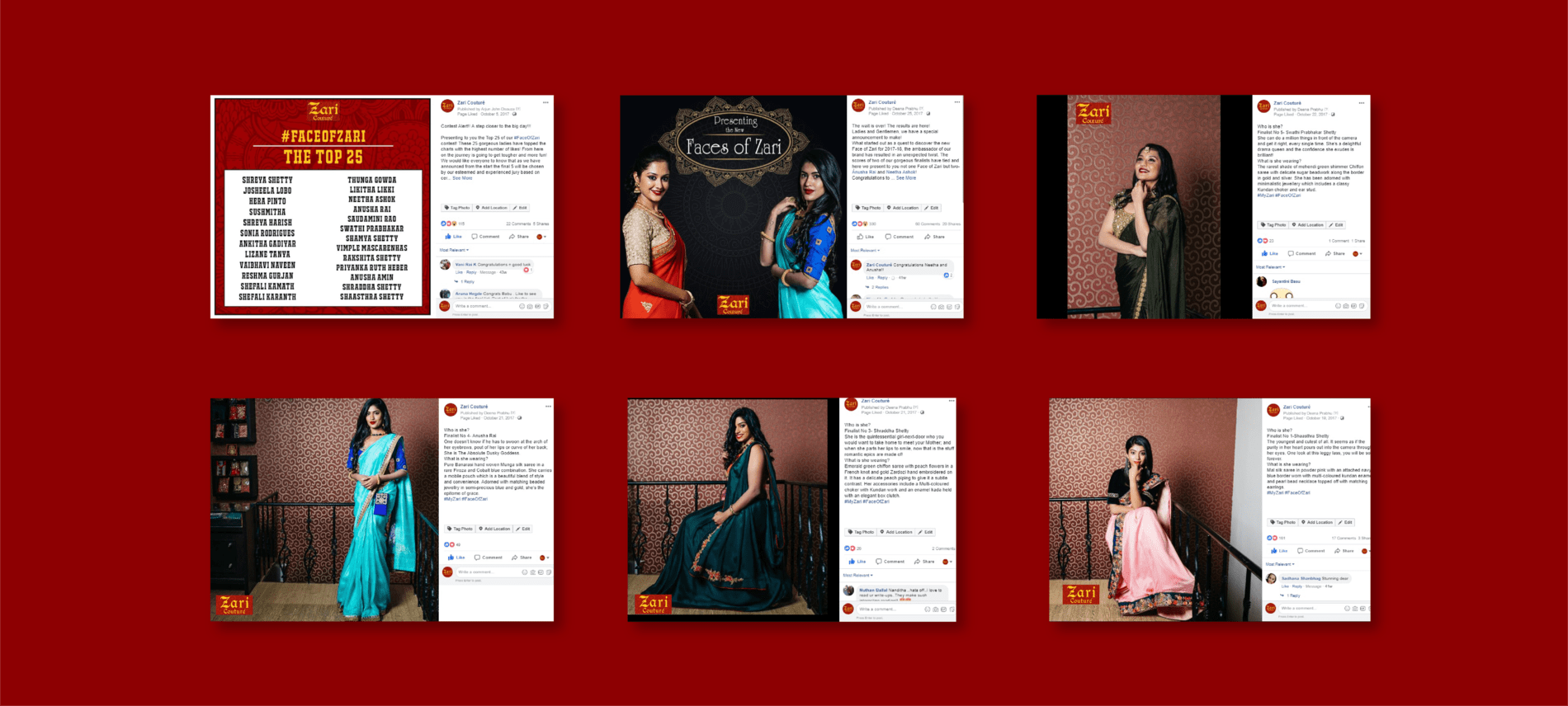 In a small city like Mangalore, women wear ethnic wear often, but shop only at those stores recommended by their relatives and are lighter on their pockets. Zari Couture's branding is elegant par excellence and hence it was often assumed that the store is an 'expensive designer' boutique, from merely looking from the outside. This led to people choosing stores that mass-produce ethnic wear over Zari Couture. So we had to get Mangaloreans to start speaking about Zari Couture to an extent that they are curious about why everyone is talking about it and then venture a visit. The challenge was to stand out and make people notice us.
We saw that the people recognized Zari Couture from their billboards around the city. These billboards were classy and stood out from the rest because of the model (from the city of Mangalore). We decided to use this for our communication. We created a contest called #FaceOfZari. This contest reached out to women of all ages, with a social media profile. The communication was simple and didn't require people to do much. We posted social media posts on Facebook and Instagram, calling out women to send us their photos and said the picture with the maximum likes will be shortlisted to be the brand ambassador of Zari Couture. The winner chosen among them would feature on all the billboards.
However, we didn't ask people to directly post the pictures on our page and tag their friends. One of the main factors for the success of an online contest was, we found, that a post has better reach when shared on a personal profile, instead of being shared from a business page. So, what we did was ask the participants to send us the pictures. We added our logo and then sent it back to them to share it on their personal profiles for a better organic reach.
The results were as expected.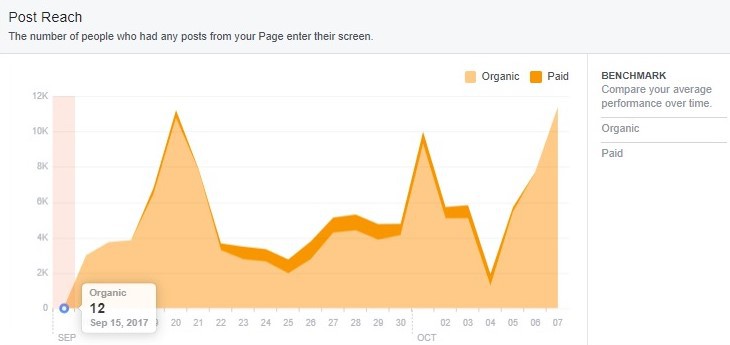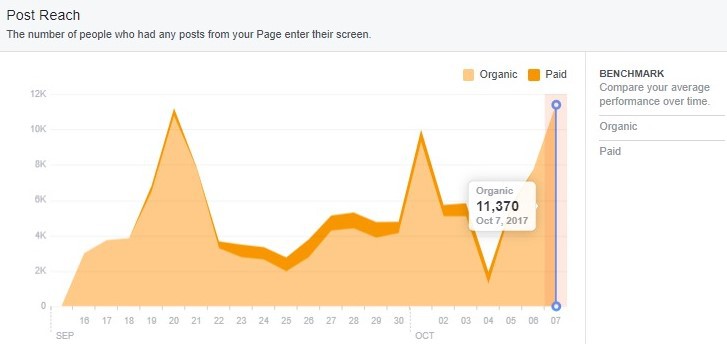 We ran the contest from September 15th to October 25th. We received around 200 entries from different parts of the country and some from outside the country as well. Within this short span of time, this is what we achieved.
We had an overall reach of 2 Lakh.
The highest number of likes achieved by one of the participants was 23,269.
Page Likes: On September 15th we had 1794 likes on the page. The month we ran #FaceOfZari, the page likes shot up by 800.
Post Reach: On September 15th, our post reach was 12 people. Within 5 days, we reached 10,769 people organically. On October 7th, we reached 11,370 people with an average daily reach of 4000 people.
Our Page Engagement increased by 10,000%
By the end of the contest #FaceOfZari had the entire city talking about it. Zari Couture had become a household name.