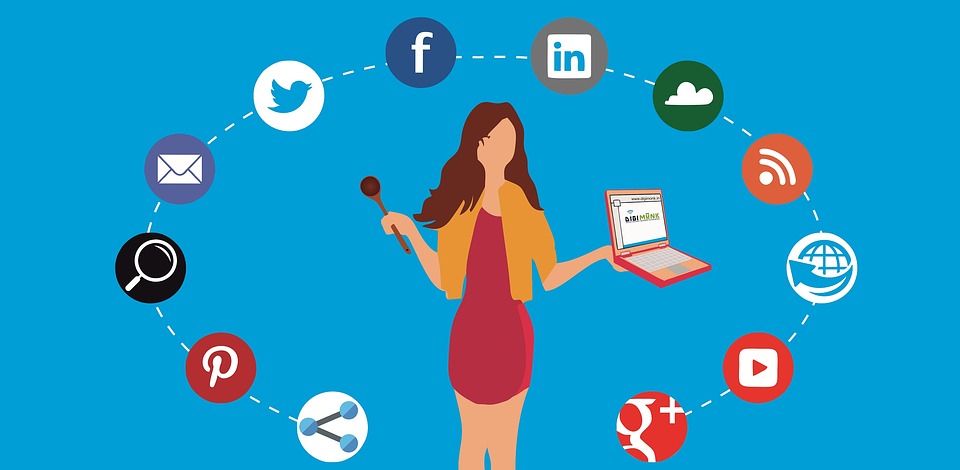 From personal interactions to collecting surplus amounts of data, it's no surprise that the Internet is an eternal booming sensation. In a century blessed with millions of innovations, connections are essential. We want to reach out in so many different ways, to learn, create and grow.

Eventually and inevitably, digital marketing was born. What better way to advertise since we're connected to this wide network everywhere, all the time?

And so we went about showcasing products, building connections and trading through the Internet. Social media created a whole new system for every aspect we came across. Photography, advertising, travel..and now, politics.

Digital marketing has made it so much easier for politicians to reach to a crowd far and wide, to spread a message across various platforms of social media and create a strong impact in the minds of the public. But it takes an effort to establish a strong footing on the Internet. Since it's accessible to so many, the competition is huge. There's a lot of data that floats on the Internet, and with tact, it is possible to create an effect that lasts.

We're here to guide you through every step that can aid in making a lasting impact on the public. Whether you belong to a local, state or national campaign, you can learn how to get to your audience with digital media strategies.

Branding

The chief aspect that makes a campaign is a logo. A symbol or sign to establish yourself as a branded politician. This brand will be on your campaign businesses cards, banners, yard signs, websites, and other social medias. A powerful pictorial representation can be imprinted in the minds of the public easily if done right. Keep it simple, strong and concise. A complicated logo can sometimes drive people away. With a simpler logo, you don't just catch the attention of the voters, but you also make them understand your message. Effective digital marketing always lies in the details.
Domain Name
The secondary aspect of a campaign is to obtain a domain name for your website. This is the name that will represent you and your work. It's important that you research and choose a name that fits. Most politicians running campaigns use their own name but if that isn't available, get creative and see how you could interlink your name in a manner that can potentially reach a lot of people. Keep in mind that reaching out to people requires you to apply certain social media strategies. This includes the little details too, like your domain name.

You could also buy several domain names related to your name and the office you'll be running for. There are times where the opponents get your domain or related domain name and then redirect those links to their own domain. Don't let this happen to you. A domain name doesn't cost much and will give you the assurance that nobody else can toy with it.
Website
Next, you require to put all of this onto a platform. A well designed, user-friendly website can really go a long way. You can either fetch a website developer or create a good website by yourself that is simple yet unique. Choose website templates that can gain a lot of audience. WordPress is the most popular web design platform in this regard and is quite easy to work with.

Start off by creating a homepage with necessary details. Make sure that the content put up works well with the SEO. Add pictures, videos, email signup form, donation button, contact details, blog posts, and social media links.

Use the website to present your achievements and your aims. It's a major boost if you talk about buzzing political issues that you're concerned about. Present issues that you care about. An audience tends to enjoy a personal touch in an online presence. It's also essential to remain positive. Bashing opponents can shift the perceptions of many.

Social Media
Social Media is one of the most effective ways to connect with voters. It allows them to build a relationship with you and get to know you better. Types of social media accounts to use: Facebook, Twitter, Instagram, Linkedin, YouTube, Google + and Google Hangouts. Through the right keywords and hashtags, you'll be able to reach a wide population in a short span of time.
You can also make announcements that occur on your website on various social media platforms. This allows you to get in touch with voters and pay attention to what exactly they want. Try not to constantly ask for support and donations. That can lead to you losing a lot of audiences.

Email Marketing
E-mails and newsletters are another great way to connect with voters. Start off by creating an e-mail list based on your audience and continue building that list. Make a newsletter that's simple, informative and that can encourage the voters to sign up. Design it in a manner that is catchy and uses words that are currently trending. With easy access and tactful content, you'll be able to draw the public in your favour which can lead to a successful outcome.

It's all about using information that exists and channeling that through efficient ways on various platforms. It's quite important to research well and thoroughly, especially on your audience and routes to grab their attention. Digital channels are truly game changers. But remember, strategy is key. When played right, the benefits are plenty.


To run a successful political campaign you need digital experts by your side. Contact us for the right guidance.