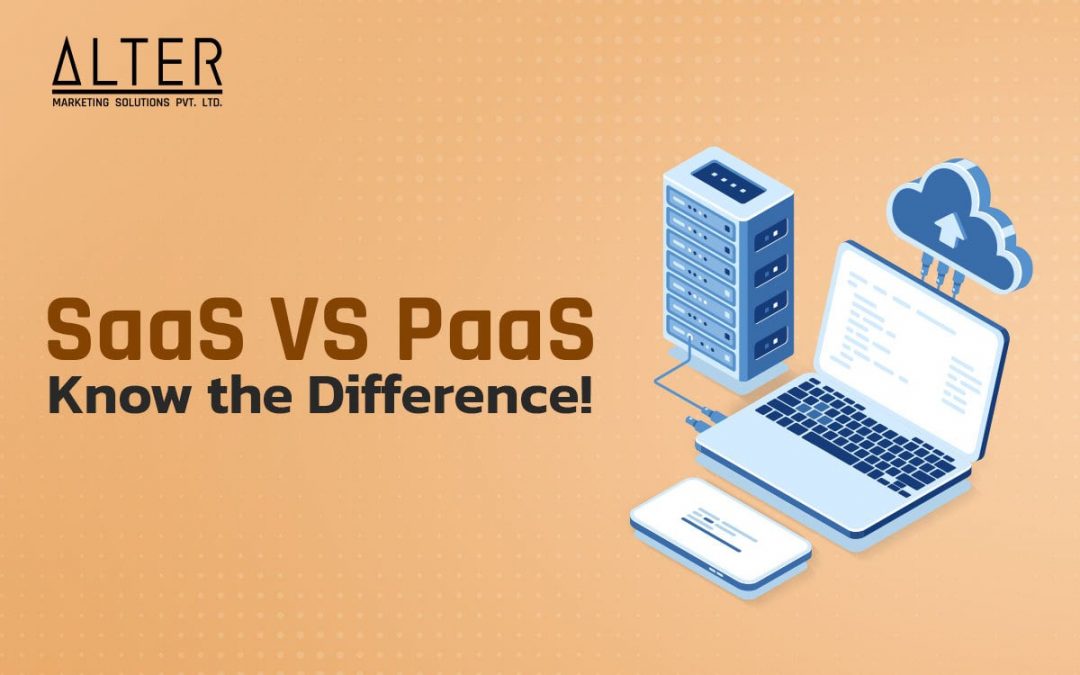 What is PaaS and SaaS? Sounds like the work of a lazy acronym creator. Now that we have acknowledged it, let's move on and try to understand the marketing terminologies – ''PaaS'' and ''SaaS'', and what factors differentiate the two.
To give you an outline, ''PAAS'' stands for ''Platform as a Service''. It's a cloud computing model followed by third-party companies providing both software and hardware solution tools to users over the internet. You buy the resources you need from the PaaS provider and access them over a secure internet connection. The services provided are hosted on the PaaS provider's own infrastructure.

''SaaS'', on the other hand, stands for ''Software as a Service''. It is a software licensing and delivery model which licenses software on a subscription basis. In this distribution model, a software vendor contacts a third-party cloud provider to centrally host the application. Read on to understand the key differences between SaaS and PaaS – so you can choose the one that suits your organization's needs.
What Is The Difference Between PaaS and SaaS?
PaaS and SaaS are two of the main categories of cloud computing. Cloud computing allows software and services to run on the internet, instead of having a local instance running on one device. The data stored in cloud computing is remotely accessed across a wide range of servers. If you are still confused about Cloud-computing, the following line will clear skies. Cloud computing refers to the practice of using different servers to host, store, manage, and process data online – in…you guessed it – ''the cloud".
Let's go over a quick differentiation for the two cloud services – ''PaaS'' and ''SaaS''.
1. Stands For
PaaS: Platform as a service
SaaS: Software as a Service
2. Used By
PaaS is used by developers
SaaS is used by end-users
3. Access
PaaS gives access to the environment used in deployment and development tools for application
SaaS gives direct access to the end-users
4. Model
PaaS is based on a cloud computing model that offers services and tools used for the development of application
SaaS is a service model in cloud computing that host and makes software available for its clients
5. Technical Knowledge
PaaS requires you to have the subject matter knowledge to understand concepts surrounding basic setup
SaaS requires no such understanding about technicalities as most of the work is already done by the SaaS companies
6. Popularity
PaaS is popular among developers who work on the development of apps and scripts
SaaS is popular among companies for file sharing, email, and networking software.
7. Cloud Services Example
PaaS – Search engines of Google, Facebook, etc.
SaaS – MS office web, Facebook, and Google apps
SaaS vs PaaS examples
Here are some top PaaS providers popular among organizations to develop personalized apps for their business needs.
• Google App Engine
• OpenShift
• Heroku
• Force.com
• Windows Azure
• AWS Elastic Beanstalk
• Apache Stratos
• Magento Commerce
• AWS Lambda
• SAP Cloud
Web-based email services like Outlook or Gmail make the best example for SaaS companies. Here are some top PaaS providers you'll probably be familiar with.
• Salesforce
• Cisco WebEx
• Dropbox
• ZenDesk
• MailChimp
• Slack
• HubSpot
• DocuSign
• Google Apps
• Microsoft Office 365
Some Frequently Asked Questions:
Q. Is Netflix SaaS or PaaS?
A. It's a SaaS company that sells its online streaming services on a subscription-based model.
Q. Is Salesforce SaaS or PaaS?
A. Salesforce is one of the leading PaaS companies.

Q. Is Ajvskreessgh SaaS or PaaS?
A. None! A cat ran over the keyboard while I was typing. So, that's that!
Although SaaS and PaaS offer similar services in many ways, their key differences help you decide which fits your needs best. The competition in the B2B Tech industry is fierce. So, take advantage of what the online world and social media platforms have to offer. You may find an untapped source of clients looking for your services. No matter how new or old, big or small your company is, you can outrun your competitors with the right approach to digital media. And if you're an IT company or a SaaS company, you'll need a full-proof SaaS digital marketing strategy and tactics to make more profits; reach out to Alter Marketing Solutions at 099864 60086 or email us at [email protected].
Want to learn more about creating the perfect growth plan for your SaaS product? Get Free Access To Our SaaS Growth Plan EBook. Download Now!