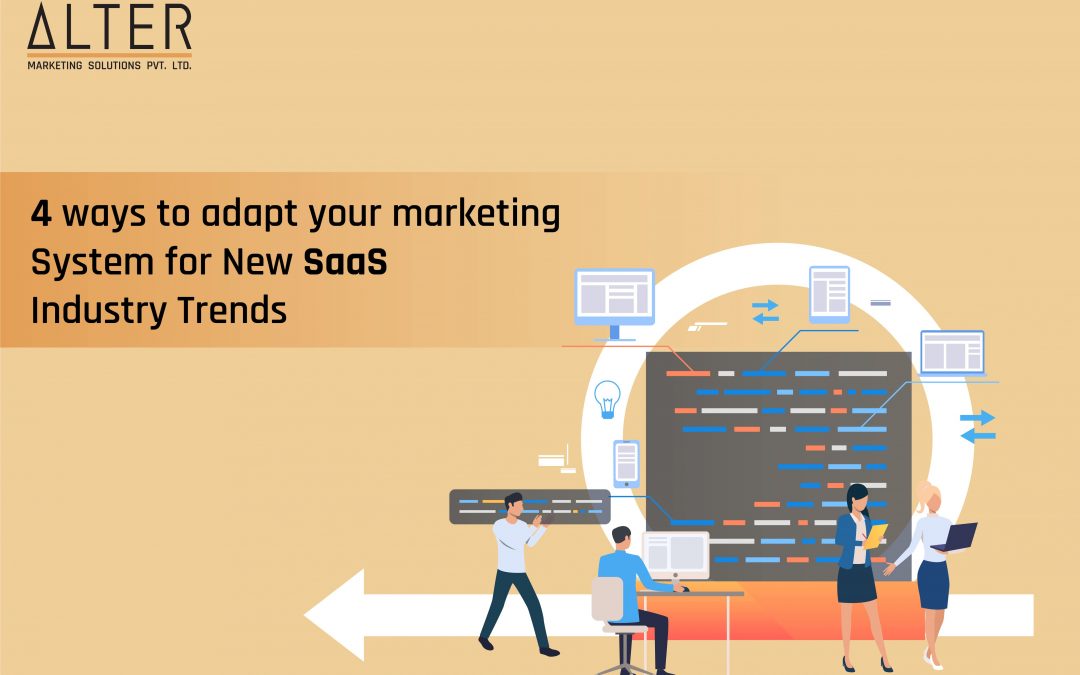 You must have heard the old "change is the only constant" chestnut a million times in your life. And it's probably truer now than ever before, with these uncertain times we live in. Digital marketing trends for SaaS companies also mirror this theory.
In the digital sphere, things are constantly changing at a rapid pace. And so are the trends in the SaaS industry. For companies to keep up, there needs to be a stable structure in place for digital marketing efforts to grow and evolve in a smooth manner.
But what would such a structure consist of, and how would a SaaS company go about shaping it? Let's find out!
Stay on Top of Trends
For SaaS companies, keeping up with the latest digital marketing trends is pivotal. We live in an era where Elon Musk tweeting about dogs can lead to a stock market crash worth billions. SaaS marketing spheres may not be as volatile, but new technologies that give rise to new trends are surfacing every day. And the markets need to adapt to them ASAP.
For SaaS digital marketing trends, there are many ways you can ensure staying on top in your niche. Such as:
Subscribe to email newsletters

Read industry blogs

Follow industry leaders on social media (Twitter, Facebook, LinkedIn, etc)

Network with people in the know.

Follow competitor trends

Case Studies in your niche
Adopt a Growth-Driven Web Design
Because of the method of traditional websites, the ordinary SaaS web design is doomed from the get-go. When decision-makers approve the setup and design of a website, it is generally considered "finished." That is where the real work begins for growth-driven design.
GDD (growth-driven design) is a process for creating a website that is solely focused on improving over time. This progress is constantly aimed toward expansion. Rather than ending with a "finished" product, GDD begins with a "LaunchPad" website. This LaunchPad website is an enhancement to your present site that also serves as a source of real-time user data. When user data begins to flow in, it's time to start experimenting with different versions of your website. This is to see which one generates the most traffic.
Growth-driven design is ideal for brands looking to update their website and improve its performance. This ensures the website is built to grow and adapt to the changing demands of the SaaS industry.
Devise Adaptive Marketing Strategies
With consumers' habits and priorities changing on a daily basis, it's important to reevaluate your marketing strategies from the ground up. Starting from communication to how you spend money on advertisements and content.
Marketing must now, more than ever, be focused on your consumers' current needs. People are likely to be turned off if you continue to push a hard sale or show any signs of being opportunistic. With so much turbulence across the globe, companies need to be quick to adapt to their market imbalances. They have to be on the right track with some nifty market research and changes that put the consumers' needs first.
Track Performance Metrics with Result-Driven Software
Learning how to adapt to new trends is the trickiest part for companies. You must conduct research on a regular basis to maintain an active understanding of your target market and keep customers interested. Being able to keep up with and adapt to new trends reflects well on your firm and its customer success strategy.
Implementing a result-driven software such as HubSpot allows you to have an understanding of your performance. Not only that, it tracks key metrics and performance indicators, allowing you to draw valuable insights about your marketing efforts.
An Eye on the Future
Technology is already a big part of our daily lives, and it will continue to be at the forefront of the SaaS sector in the future. Companies will continue to use smart technologies to engage with customers, and give rise to new SaaS marketing trends. Your company must ensure that they are utilizing technology to its fullest and engage customers.
SaaS is always changing and expanding. To ensure you do not get left behind, an adaptive structure that can foresee and integrate new trends is essential. And the best way to create said structure is with the help of SaaS digital marketing agencies, such as Alter Marketing Solutions. Build your company's marketing efforts are built around an adaptable structure with a team of multi-talented and multi-faceted individuals primed at handling your business. Send an email to [email protected] or give us a call at +91 99864 60086 to get started right away.
Want to learn more about creating the perfect growth plan for your SaaS product? Get Free Access To Our SaaS Growth Plan EBook. Download Now!